Improve how you feel with vitamin injections.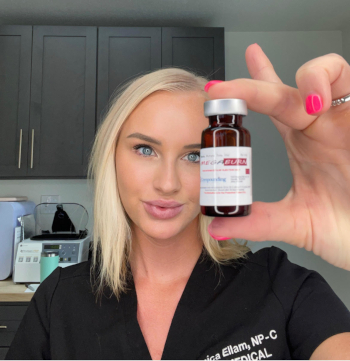 Your body needs certain vitamins and nutrients to support its natural processes. Although many of the vitamins your body needs come through what you eat, most people do not get enough of these vitamins naturally to maintain optimal health and feel their best.
This is where vitamin injections come in. Whether you want to clear up your skin, lose a few extra pounds, or boost your energy, regular vitamin injections can support your body's natural processes and help you look and feel your best. At Jessica Ellam Aesthetics, we can compound vitamin injections according to your specific needs. We typically provide these injections on a weekly basis either at our office or in the comfort of our patient's home in the Knoxville, Tennessee area.
Quick and effective, vitamin injections are a powerful pick-me-up that delivers vitamins, amino acids, and nutrients directly into your bloodstream. They can help you boost your energy levels and immunity, help you cope with certain health issues, and more. Based on the information you give us during your first consultation, we will customize your vitamin injections to meet your goals and provide compassionate service every step of the way.
If you're intrigued by the idea of regular vitamin injections, we want to tell you more about how they can help you feel and function better in your daily life. To set up an appointment or to learn more about our vitamin injection options, reach out to us today.
Vitamin Injections
Need a boost in your immune system, want to achieve clearer skin, want to lose a couple extra points, want some energy. We can compound vitamin injections to each patient's specific need.
Injections are often a once a week injection that can be done in the office or in the comfort of the patient's house.