Regain vitality and improve your quality of life.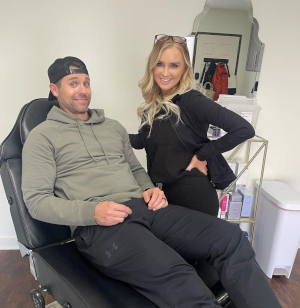 Hormone levels naturally decrease as we age, leading to various physical and mental changes. At Jessica Ellam Aesthetics, we offer testosterone injections to help restore this vital hormone and enhance the overall well-being of our Knoxville, Tennessee clients.
A testosterone injection is a hormone replacement therapy that replenishes low testosterone levels. When testosterone levels return to a healthy range, it alleviates symptoms associated with low testosterone and enhances your quality of life. A testosterone injection can be a viable treatment option if you're experiencing fatigue, decreased muscle mass, lower sex drive, mood changes, and/or difficulty concentrating. By boosting your testosterone levels, these injections can help mitigate these symptoms and improve your overall health and well-being.
A testosterone injection is typically administered every one to two weeks. The injection is quick, and patients can often experience the benefits within a few weeks of starting treatment. This treatment can help restore energy, boost mood, improve muscle mass, and enhance sex drive.
The results of testosterone injections can vary based on individual factors, but often, the benefits can be sustained with ongoing treatment. Regular follow-ups will be necessary to monitor testosterone levels and adjust your treatment plan.
Let's face it– dealing with symptoms of low testosterone is no fun. If you are considering making a change and upgrading your quality of life, testosterone injections can offer a safe and effective solution. Reach out to us to learn more about this treatment and how it can help you regain vitality and improve your quality of life.